On 1 July, The Biomedical Engineering Institute launched 2-year project "Wearable technology for immediate detection of acute myocardial infarction: Towards an application in the out-of-hospital environment (DetectMI)".
The project is funded by the Research Council of Lithuania and carried out in collaboration with clinical partners from Vilnius University Hospital Santaros Clinics.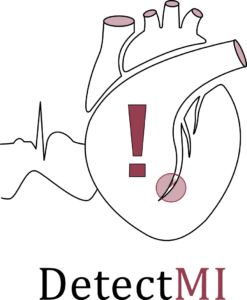 According to a Eurostat report, myocardial infarction is the leading cause of preventable deaths in people under 75 years old. Every minute from the first symptoms to interventional treatment counts. Unfortunately, myocardial infarction often goes undetected or is diagnosed too late due to the reluctance of some individuals to seek medical examination. This becomes a serious social issue, demanding greater efforts to be made to raise awareness among those experiencing infarction- related symptoms with life-threatening consequences.
The DetectMI project aims to develop wearable technology for the immediate detection of myocardial infarction to avoid serious complications due to delayed diagnosis. This will be achieved by developing an automated myocardial infarction detector suitable for implementation in a wrist-worn device developed by BMEI.
The device user, experiencing the symptoms of MI, will be able to quickly acquire a multi-lead electrocardiogram by touching integrated biopotential electrodes. Rather than basing the decision solely on the ECG, the DetectMI approach will rely on the synergy of other common biosignatures of myocardial infarction such as the reduction in blood oxygenation and the occurrence of ventricular arrhythmias. Ultimately, the user will be informed about the analysis outcome by an alert, whose purpose is to increase the user's awareness about the seriousness of the condition rather than to provide a diagnosis.